Creating your ad campaign
Essential AdWords terms
Before you begin, take a few moments to get familiar with these essential AdWords terms:
Understanding your campaign settings
Now that you have an understanding of your account structure and a better picture of the customers you're trying to reach, you're ready to consider the campaign settings that suit your goals. The campaign settings you select will apply to all ads within the same campaign. The type of campaign you choose determines which settings are available to you.
The settings cover three basic areas related to your ad:
How much you'll pay by setting your budget and bid (you can always adjust them later)
What, besides text and a link, to include in your ad using ad extensions
Where you want your ads to appear using settings for geographic locations, languages, and placement on the web (called Networks)
Here's an overview of the campaign settings you'll need to address when you set up a new AdWords campaign:
Setting
Description
Learn more
Campaign name
This is where you enter a name for your campaign. Although AdWords enters a default campaign name for you, you should choose a name that clearly describes the theme of the campaign so that you can easily find it in your account. Your campaign name isn't visible to your customers.
Type
The campaign type determines which settings we'll show you as you create or edit your campaign. The type you choose tailors the campaign setup to just what's appropriate for your goals, eliminating unrelated features. We recommend new advertisers start with a "Search Network with Display Select" campaign type, which offers a wide variety of potential placements for your ads.

You'll also choose a campaign sub-type, such as "Standard" or "All features." The sub-type determines which settings and options are available so you can focus on the features most relevant to your your business goals. If you prefer a simpler overview of your campaign and feature options, consider using the "Standard" campaign subtype; use "All features" if you want to see everything about your campaign and feature options.

Choosing the campaign type that's right for you
Networks
The Networks setting indicates where you want your ad to appear based upon the campaign type you chose. For example, with the Google Search Network, your ad can appear on Google search sites and non-Google search sites (like AOL) that partner with Google to show search ads, called search partners. With the Google Display Network, your ad shows on other sites that partner with Google to show ads. To change your Networks, you'll need to change your campaign type or create a new campaign.
Search Network
Devices
Campaigns target all types of devices, which include desktops, tablets, and mobile devices. Later, you can choose to customize ads for different devices.
Types of mobile ads
Locations and languages
Your campaign's ads are eligible to show to customers in your targeted geographic locations, or to customers who have selected your targeted language as their interface language. We recommend choosing the language you serve your customers in.
Location and language targeting
Bidding and budget
Choose to manually set your bids for clicks on your ads or let AdWords do it for you. Depending on your campaign type, you may see additional bidding options to choose from.

Your bid strategy controls how you pay for users to interact with your ads.Yourdefault bid is the most you'll pay per click for ads in an ad group. Your budget is the average amount you're comfortable spending each day on your campaign. The budget you choose is entirely up to you, and you can adjust it at any time.

Setting your bid and budget
Ad extensions
Include even more information with your ads, such as location information, links to pages on your website, and your phone number.
Enhance your ad using extensions
Advanced settings
Once you're comfortable using AdWords' most essential settings, consider adopting one or more of these optional features to help get your ad campaign on the same schedule as your customers (these settings are available for campaigns with "All features" enabled):

Schedule: Set a campaign start and end date.
Ad scheduling: Choose certain days or hours of the week for your ads to show.
Ad delivery: By default, AdWords shows your ads when they're more likely to get clicks or conversions, but you can choose to show your ads more evenly throughout the day.

Using custom ad scheduling
Creating a campaign
Now that you have a customer profile in mind and an understanding of campaign settings, you're ready to use that information to create your campaign and set your budget and bids. You'll need to make at least one campaign before you can create ads in your account.
Create your first ad group
After you've saved your campaign settings, you'll be taken to the "Create ad and keywords" page. This is where you'll create the first ad group within your campaign. Each ad campaign consists of one or more ad groups. If you create a "Search Network only – Standard" campaign, you can add multiple ad groups on the "Create ad groups" page.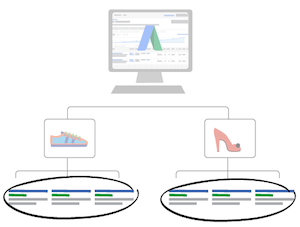 About ad groups
An ad group is made up of a set of keywords, ads, and bids. Each ad campaign consists of one or more ad groups.
Ad groups allow you to group your keywords with the most relevant ads. This helps ensure that you show the most relevant ad when someone searches for a particular word or phrase. We recommend creating separate ad groups for the different product types you offer.
Example
Let's say you're a caterer and you want to promote both your wedding and party catering services. You might want to create two ad groups, one for wedding catering and another for party catering.
In your wedding catering ad group, you'll include keywords related specifically to wedding catering, such as "wedding banquet caterer" or "wedding party." Then, you'll create several ads specifically about your wedding catering service. Because your wedding-related keywords and ads are in the same ad group, your wedding catering ad will show to people searching for that specific service.
You'll do the same in your party catering ad group, with keywords and ads that specifically address your party catering service.
Create your ad and choose keywords
On the "Create ad and keywords" page, you'll choose your ad format, create your ad, and select the keywords you think your customers would use when searching for information related to your products or services.
We'll cover how to create a text ad (the ad format we recommend for newer advertisers), but you can choose from many different ad formats depending on your advertising goals. These formats include video ads, image ads, WAP mobile ads, app or digital content ads, and more. Learn about all available ad formats and how to choose what's right for you.
Keep in mind
Once you've finished creating your campaign, including at least one ad group, ad, and keyword, and completed your billing information, your new campaign is enabled by default. When your ad is approved, it will be eligible to show to customers. You can pause your campaign at any time. Learn how to edit your campaign status.